The Story
If you believe necessity is the mother of all inventions, then this is where we started our story. Amalgam Watches is a novel watch concept inspired by a makeshift watch strap and the values of our home country, Mauritius.


Mauritius flag, 'Quatres Bandes'
The four Mauritian colors: freedom, uniqueness, vision and quality. Inspiration behind our design ideology during product development and for our future design products
Makeshift watch strap
Inspired the Golden Half Ratio of our strap design. From top, the watch embodies the spirit of chronology but underneath lies the exotic & unique gemstones
The Amalgam Way
Tell your story through your watch. Make a beaded strap which are interchangeable on various levels and created by you, unique for your wrist size. We wanted to create a harmonious amalgam between the watch industry and the world of gemstones to create : a personalized, modern-designed luxury watch. We achieved our goal with a unique yet meaningful design approach but the journey's far from over.
Raison d'être
I​
With our smartphones , gone are the days when watches were mere functional accessory. Nowadays, Watches are statement pieces to express an individual's sense of style & personality . The younger generation are more interested in pieces which are custom-made , fashionable and suitable for many situations and affordable. Gemstones have also resurfaced recently among youngsters as a fashion accessory sought for its unique and surreal esthetics.​
II
Second, we are not re-inventing the wheel by adding beads to watches, it was something which was done previously. However, the 'beaded-watches' on the market are restrictive in design ( & feminine, too feminine) , equipped with lower quality components , an exaggerated use of beads & worst of all, lacked a modern fashion appeal.​​
III
Third, we wanted to bring a fresh & convenient approach to the market which is populated by brands who are simply stamping their names on rehashed designs with low-moderate quality parts at a hiked-up pricing. Our model embed greater inherent value to our watches and its wearers
Milestones
We started the journey on a fateful day, 8th March 2017, when the idea struck our co-founder ARH. From there, it's been an enriching experience with its fair share of ups and downs. We do not know what the future holds but we know where we're going. Here's the story so far (Oct 2021):

March 2017 – Concept of AMALGAM conceived

April 2017 – First drawings and 3d models

July 2017 – Fist prototype tested

October 2017 – Prototype refined & improved

January 2018 – Manufacturing of first batch

November 2018 : Market launch: Mauritius

June 2019 : Strap engraving introduced as service

January 2020 : Dial engraving introduced as service
December 2020 : First in-house dial designed & manufactured
June 2021 : First Signature Design Sold with Jewel

December 2021 : First Signature Collection : La Nature De Mosaique

June 2022 : Ideation on first automatic movement

January 2023 : First rectangular stone links cut in-house

March 2023 : First Automatic-only Signature Collection : Primaris

Now - July 2023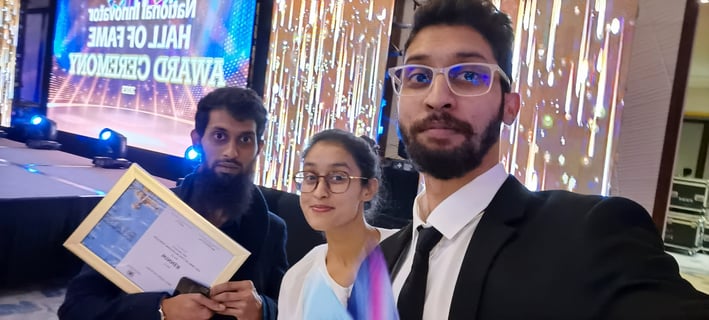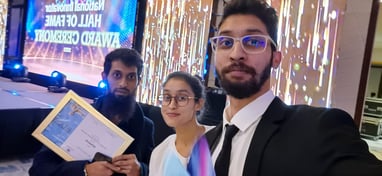 Abdur- Raheem, Co-founder, Product Designer (Right)


The man behind the make. Abdur's studies of Biomedical Engineering, combined with a versatile portfolio brimming with experience in CAD design, photo/videography & editing, and graphic design have sat him comfortably at the helm as AMALGAM's CEO. It is his innovative, out-of-the box thinking that can be credited for not only the inception of the AMALGAM brand, but for the inspired, articulate, and innovative affect that has come to define its renowned.
Ridwaan, Co-founder, Technical Expert (Left)


Ridwaan's dual degrees in computer and mechanical engineering have given him a keen eye for the working parts of the greater whole. His oversight of logistics, manufacturing, and quality control have animated the AMALGAM brand from the ground up, ensuring the experience of our customers can be summed up in one word and one word alone - perfection.
Sumayyah, Co-founder, Designer & Investor (Centre)


Having left her footprint on many a country and continent, Sumayyah's decade of travels has had a profound impact on the way she sees the world; a world upon which she has labored to leave her mark via her prolific partnership with the AMALGAM brand.
Be it her financial support; the influence of her worldly eye for fashion and culture on our product design and business partnerships; the personable sincerity she lends to the voice of the AMALGAM brand via media promotion and customer outreach - the AMALGAM brand would not be what it is today without her.